Sierra Morgan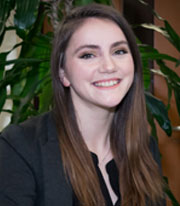 Sierra Morgan began working as a receptionist at Pacific Imaging Center in February 2020. Prior to joining PIC she worked for seven years as a shift supervisor at Starbucks. Sierra grew up in Kalama, Washington, before moving to San Diego, where she graduated from El Capitan High School in 2015. She returned to Kalama in August 2019.
Sierra loves animals. She is currently taking online classes through Penn Foster College and hopes to one day become a veterinary technician. In her spare time, she enjoys reading, writing poetry, and drawing.
The people - both her coworkers and patients - are her favorite thing about working at PIC.