Julian Ledgerwood – RT (ARRT) (MR) (R) MRSO (MRSC™)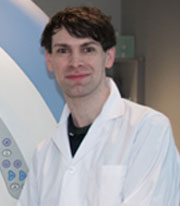 Julian job shadowed Jack Berry at PIC in 2010, sparking an interest in MRI. He worked for Longview Urology while completing the prerequisites for a radiologic program through Bellevue College. He completed his x-ray coursework in 2014 and followed that with a summer MRI externship at University of Washington Medical Center.
Julian has been with PIC since 2016. Julian is licensed in 2 imaging modalities, radiology and magnetic resonance. He is certified by the American Registry of Radiological Technologists (ARRT) and has continued to update his training to include MR Safety Officer in 2018. Julian and his wife Madi have one cat, enjoy playing music and traveling.