Patrick Burns - RT (ARRT) (MR)(CT) (R)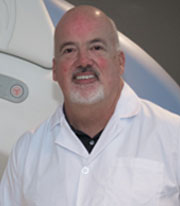 Patrick Burns was hired as Manager of Imaging Services at Pacific Imaging Center in December 2020. A 1983 graduate of Woodburn High School, he spent four year in the U.S. Air Force, where he trained in radiography.
He worked at Providence Medical Center in Portland for 10 years and added computed tomography to his list of certifications. He was employed for two years at Southwest Medical Center in Vancouver before earning certification in magnetic resonance imaging. He then worked as lead technologist at PeaceHealth Medical Center in Longview.
Patrick was attracted to PIC because of its commitment to excellence and family atmosphere. When he's not working, he enjoys camping, hunting, fishing, and traveling.