Lisa Looney – (ARMRIT) (MR)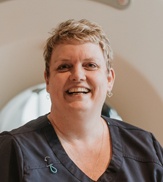 Lisa first trained as a medical assistant at Delta College in Stockton, California, before completing MRI training in 2007 and earning board certification in 2010. Lisa has served in a variety of positions during her career. From 2014 to 2016, she worked as an MRI Director, which gave her an opportunity to manage an imaging center and participate in planning the construction of a new MRI facility.
She has worked at Pacific Imaging Center since January 2019. "It has been a pleasure working at PIC. Our goal is to provide great patient care, quality imaging, and great customer service."
Lisa has been married for 31 years and has one daughter. She and her family enjoy traveling, car racing, movies, and gardening.