Jack Berry – RT (ARRT) (MR) (CT) (R)MRSO (MRSC™ )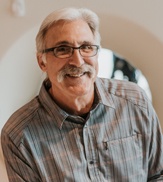 Jack completed his initial coursework at the Academy of Health Sciences in San Antonio, Texas. He is licensed in three imaging modalities: radiology, computed tomography, and magnetic resonance. He is certified by the American Registry of Radiological Technologists (ARRT) and has continued to update his skills by attending training sessions in Eugene, Oregon; Las Vegas, Nevada; Kirkland, Washington; and San Francisco, California. In 2015, he earned certification as a Magnetic Resonance Safety Officer (MRSO).
Prior to joining PIC, Jack worked in a variety of imaging centers, from large military teaching institutions to smaller hospitals and clinics. He has more than 43 years of imaging experience – including 22 years specializing in MRI and 16 in CT – and has been the Director of Imaging Services at Pacific Imaging Center since 2006.
"It's a pleasure and privilege to work at PIC. It has given me the opportunity to utilize the best of what I've learned and experienced."
His goal is for the imaging staff to provide the best possible MRI expeience for patients. In addition to personal service, this includes delivering the most comprehensive images and reports to patients' physicians within 4 to 24 hours after their exams. "We are always striving to better ourselves and our programs."
Jack is an avid mountain biker, back country car camper, and hiker. He and his wife, Becky, also enjoy road riding throughout the Pacific Northwest. They have three children and two grandchildren.